StartUp
TECHNOVATE 3.0 : A STARTUP COMPETITION
Think, Visualise, Realise
Introduction: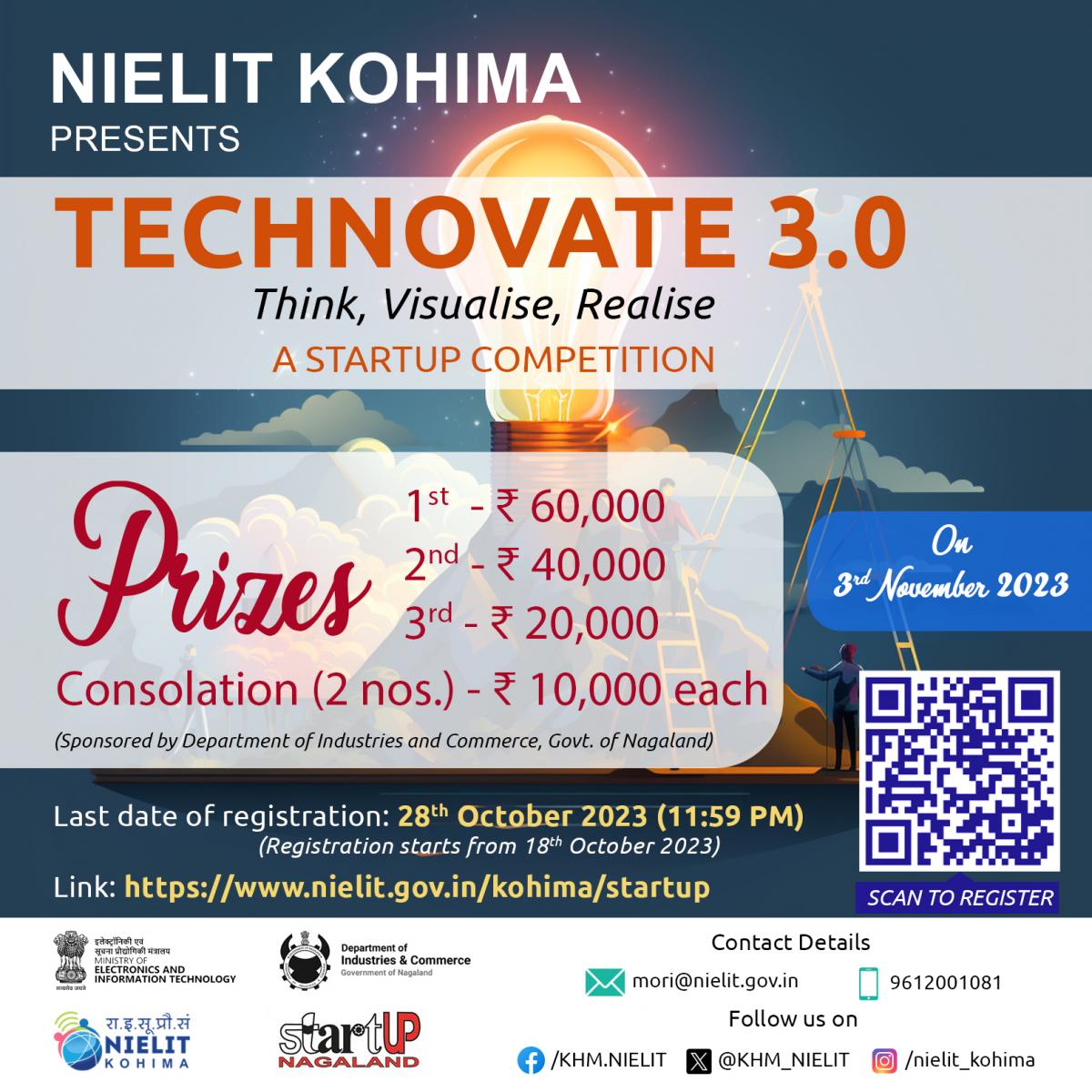 NIELIT Kohima is constantly working towards nurturing and developing Information Technology ecosystem with appropriate citizen centric solutions to improve the life of people in Nagaland. The aim of this initiative is to invite innovative ideas from the youth of the State for challenging problems and provide them environment to build and come out with smart solutions. This would lead to developing entrepreneurship culture and make Nagaland a hub of innovation.
Ministry of Electronics & Information Technology (MeitY) has undertaken a slew of proactive, pre-emptive and Graded measures to spur the technology led startup-innovation ecosystem inthe country and giving an impetus to the new and emerging technologies. Meity has initiated different schemes and programme to promote technology innovation, start-ups, and the creation of intellectual properties.
Register now:
Eligibility
The applicant must be a citizen of India.
The applicant must be a permanent resident of Nagaland or the business is registered in Nagaland or employs at least 60% of its total qualified workforce from Indigenous Inhabitants of Nagaland.
The applicant should have an idea in the IT domain with commercial viability.
Process of Selection:
All Interested applicants are invited to submit the applications online on or before 28th October 2023 11:59 PM.
List of Top 10 applicants will be released on 1st November 2023 on the basis of the applications.
Selected 10 participants will have to come to NIELIT Kohima to pitch in front of a panel of judges on 3rd November 2023. The pitch will be of 5 minutes and another 3 minutes will be
allotted for the judges to ask questions. Based on the performance, the panel will select the best three participants.
Prize Money (Sponsored by Department of Industries and Commerce, Govt. of Nagaland.)

a) 1st prize : ₹ 60,000/-
b) 2nd prize : ₹ 40,000/-
c) 3rd prize : ₹ 20,000/-
d) Consolation Prize (2 no's) : ₹ 10,000 each

e-Certificates will be issued to the top ten participants.
Timeline:
Opening of Registration for Competition : 18th October 2023
Closing of Registration : 28th October 2023 11:59 PM
Declaration of Top 10 Start-ups : 1st November 2023 4:00 PM
Pitching Round : 3rd November 2023
Final Result declaration : 3rd November 2023
Benefits to Startup:
Incubation facilities will be provided to the selected participants at NIELIT Kohima.
Financial assistance will be provided to the incubatees on the basis of their progress.
Capacity building, skilling training will be provided.
Connect to strong network of mentors who are associated with NIELIT from diverse background like entrepreneurs, angel investors and influential people.
Providing technological facilities and advices initial growth funds, network and linkages, co-working spaces, lab facilities, mentoring and advisory support.
Early-Stage Entrepreneurs will be provided with tools to validate their idea, to develop a strong business plan, and should provide them connections with peers.
Support startups by providing access to its resources including access to infrastructure, laboratories, libraries and other facilities and teaching resources.
Support startups by guiding them on business basics, networking opportunities, marketing assistance, financial management assistance, access to bank loans, funds and guarantee programs, providing linkage with Investors, Intellectual property management.
Terms & Conditions
The information provided through the application will be kept strictly confidential and will be used for the purpose of the program only.
The decision of the organizing team, regarding selection of candidates, is final, firm and binding.
The application and / or incubation / fellowship will be cancelled if misrepresentation of facts are found at any point of time.
During various stages of the program the participants need to disclose information of the work.
English