MAT 'O' Level
NIELIT Delhi Centre has launched its 'O' and 'A' Level courses on Multimedia and Animation Technology (MAT) at the National level. The course aims to give effective coverage on image, audio, video processing and editing including 2D/3D animation as well as web based multimedia as per the prevailing market trends. 
The MAT-O Level course has been designed by NIELIT under the chairmanship of Prof. Santanu Chaudhury, IITDelhi with experts drawn from academia and industry as members.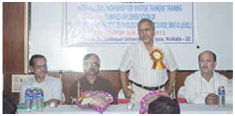 Learning Outcome: Develop understanding of the basic multimedia systems, tools and techniques and acquire the basic skills to implement components of multimedia productions, web designing and gain basic knowledge on animation production skills. 
Job Opportunities: On successful completion of the course, candidates may opt for a job roles such as Multimedia Production Assistant, Multimedia Technician, Web Developer etc.
| MAT.O1.R0 MODULE 1 | MAT.O2.R0 MODULE 2 | MAT.O3.R0 MODULE 3 | MAT.O4.R0 MODULE 4 |
| --- | --- | --- | --- |
| Introduction to Information Technology | Introduction to Multimedia | Multimedia Processing Techniques | Multimedia Design Principles and Applications |
Course Duration: 1 Year ( Two semesters)
Classes Schedule: 2 hrs a Day, 5 days a week
Commencement of Classes : Feb & August
Tuition Fee: Rs. 25000/-+ GST*
Payment terms: At the time of admission – Rs. 15000/-+ GST* (at the time of admission)
Within 3 months- Rs. 10000/-+ GST*
*GST as applicable
ACADEMIC CALENDAR
S. No
Action
August Exam
February Exam
1.
Last date of submission of online registration application
28th February
31st August
2.
Date of Online Fill in of Examination Application Form
16th April
15th October
3.
Last date of submission of Examination Application Form complete in all respect including payment
30th May
30th November
4.
Last date of online submission of Examination Application Form with Late fee
10th June
10th December
MARKS DISTRIBUTION (PRACTICAL-I, PRACTICAL-II, MINOR PROJECT, MAJOR PROJECT)
Subject
Marks Distribution
Practical-I
Question Paper : 40 marks 
Viva: 10 marks
Practical-II
Continuous Evaluation : 30 marks 
Question Paper : 50 marks
Viva : 20 marks
Minor Project
Project Report & Presentation : 40 marks 
Viva : 10 marks
Major Project
Continuous Evaluation(Internal) : 100 marks
Project Report : 40 marks
Presentation : 40 marks
Viva : 20 marks
English