Message from the Desk of Director General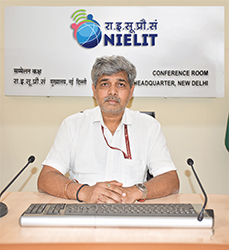 The education system in this country is undergoing a paradigm shift to improve upon the employability factor. With the launch of the 'Digital India' initiative by the Government of India, skill development and capacity building has assumed greater significance. This campaign is based on three fundamental pillars – to create digital architecture as a utility for citizens of India; to ensure digital delivery of services; and to digitally empower the citizens of India.
The National Institute of Electronics and Information Technology (NIELIT), a body under the administrative control of the Ministry of Electronics and Information Technology (MeitY), Government of India, is today uniquely positioned in terms of its outreach to all corners of the country and all segments of the society.  NIELIT is a professional examination body in India, which also accredits training programs in IT and Electronics, specializing in the non-formal sector of education and training. It is actively engaged in the development of qualified human resources in the areas of IT, electronics, communication technologies, hardware, cyber law, cyber security, IPR, GIS, cloud computing, ESDM, e-Governance and related verticals. This gives the Institute a distinct identity and character in the panorama of Skill Development and Capacity Building in India. Many Government Departments have entrusted NIELIT for recruitment of technical manpower, as third-party recruitment not only ensures transparency but the technical expertise of NIELIT can be also used for online application and conduct of assessments for short listing of candidates.
NIELIT has made efforts to establish standards in the areas of IECT and has developed market oriented courses in the emerging areas as per needs of the IT and the electronic industry. Besides, NIELIT is also a preferred agency for rolling out capacity building initiatives of State Governments and Central Ministries.
Subsequent to the merger of erstwhile CEDTs (at Aizawl, Aurangabad, Calicut, Gorakhpur, Imphal, Jammu/ Srinagar and Guwahati/Tezpur) and RCCs (at Chandigarh and Kolkata) with DOEACC, this mega institution was rechristened as NIELIT in October, 2011. The merger had necessitated process re-engineering and standardization efforts so as to amalgamate the various units and promote best practices, as a merged single cohesive unit catering to the needs of stakeholders on PAN India basis.
With emphasis on a strong Online presence, NIELIT in the recent times has embraced technology to facilitate stakeholders, particularly students, through portals that provide end-to-end solutions, including  Registration to Courses – e-Learning – Online Examinations – Digital Certificates, supported by automatic SMS, e-Mail and Aadhaar enabled Direct Benefit Transfer (DBT) scheme. The process is also being reinforced with 'digital locker' technology.
With 43 Centres all over India and a network of about 850+ Accredited Training Partners and about 7000+ Facilitation Centres (for Digital Literacy programs), this revamped website of NIELIT is a single source – device independent portal that provides for information and features in a comprehensive and cohesive manner, managed individually by all centres, under an 'umbrella' framework.
In our endeavor to promote greater transparency and accountability through increased use of technology and online services, I would like to request the users to provide their valuable feedback at webmaster[at]nielit[dot]gov[dot]in as we believe that quality is not a destination, but is a journey to improve.
English