General Information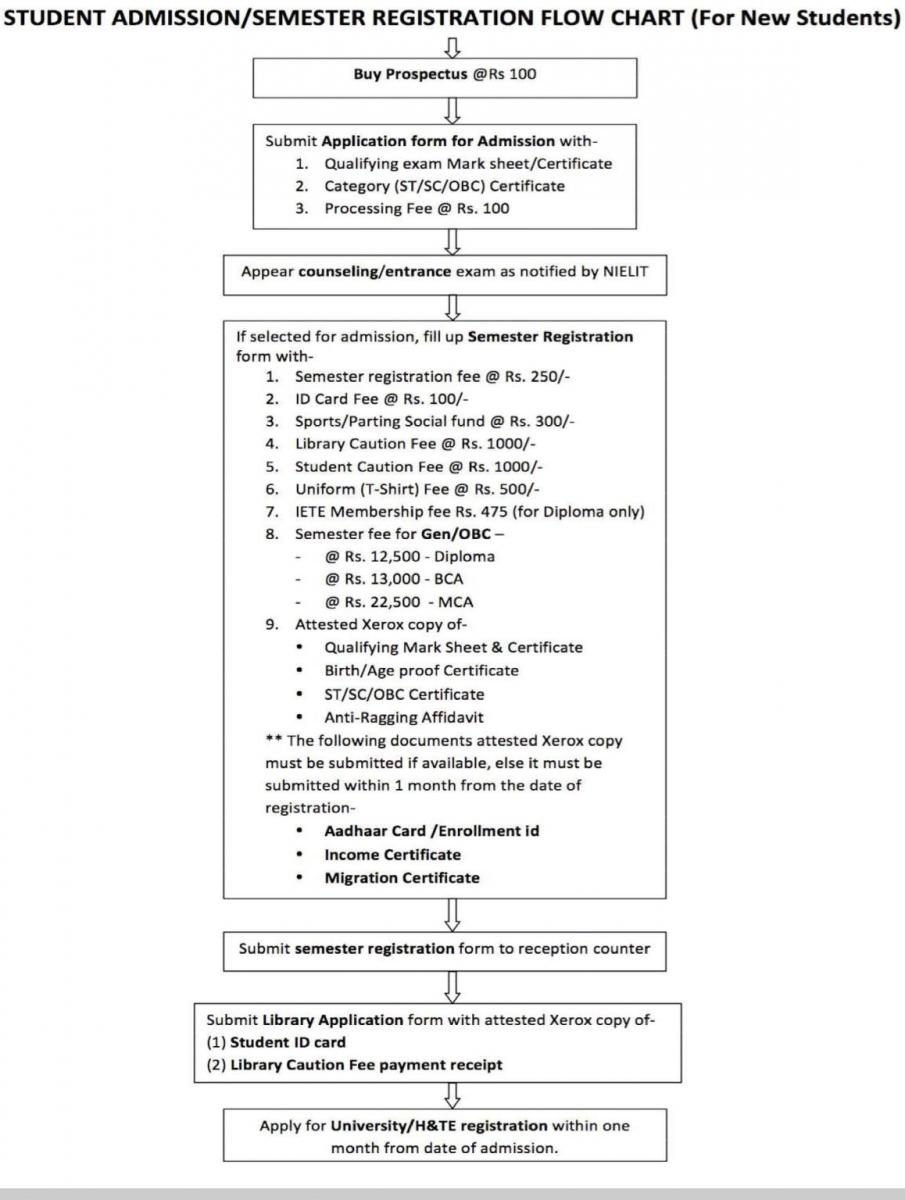 SELECTION PROCEDURE
Admissions of students to the various courses are subjected to qualifying of the candidates either in the Counseling or Entrance test or both as decided by the Admission Committee.
SEMESTER REGISTRATION FOR EXISTING STUDENTS
All MCA, BCA, Diploma, A level and O level students have to fill up the semester registration form by paying Semester Registration Fee of Rs. 250/- and Sports/Parting Social Fund of Rs. 300/- every semester for undergoing the courses in the Institution. Students who do not submit the semester registration form within 3 days from the commencement of the semester will be considered as discontinued (For newly admitted students Semester registration must be completed before commencement of the class as notified by the Institution). For any unavoidable circumstances students must take permission from their respective Course Coordinator. 
 IDENTITY CARD
The students will be issued Identity Card after their admission. Students are instructed to keep their Identity Card safely and would be required to bring daily at the Institute. Students who have lost their Identity Card can obtain a duplicate Identity Card from the Institution by paying Rs. 100/-.
GRADING SYSTEM
In order to qualify in a examination for each subject in NIELIT Courses (that is DOEACC 'O', 'A' level) a candidate must obtain at least 50% marks in Theory and Practical examination for each Subject/Module.  For the BCA and MCA Course, the grading pattern will be as per guidelines of Mizoram University and for Diploma Courses (DETE and DCSE), the grading system will be as per the existing structure of the Mizoram State Council for Technical Education (MSCTE). 
WORKING HOURS AND HOLIDAYS
The Institution follows five working days in a week from Monday to Friday. In addition, it follows a schedule of holiday as per the rules of the Government of India.
ATTENDANCE
The students should have minimum 75% attendance in order to be eligible for appearing the final examination and for getting Scholarship facilities.
LEAVE PROCEDURES
Leave letter should be submitted for each day of leave to the concerned Course Coordinator /Asst. Coordinator. Leave up to 2 consecutive days can be granted by Course Coordinator (If the reason of Leave is found to be genuine).
For leave of more than 2 consecutive days, prior permission has to be taken in writing or verbal, and leave letter should be submitted on joining with medical certificate or other supporting documents. In case of non-possibility of prior permission, information may be given during the leave but before joining by writing or verbal to concerned authority.
Unexplained absence for 10 consecutive days will be treated as discontinued.
SCHOLARSHIP SCHEME 
For Students pursuing MCA, BCA, DETE and DETE courses, Scholarship can be applied to Mizoram Scholarship Board through the Institution. Eligibility will be as prescribed by the Mizoram Scholarship Board.
The Institution has introduced a Scholarship Scheme for SC/ST/Physically handicapped and Female Students of NIELIT O/A Level Courses.

A.    Eligibility
a)    The scheme will be applicable to SC/ST Physically handicapped/Female candidates who are pursuing NIELIT O/A level courses as full time through an Institute authorized to conduct the NIELIT accredited courses.
b)    Candidates shall have to clear all the papers in the first attempt and complete the courses in number of attempts given in the subsequent paragraphs.
c)    Income of the parents of the student from all sources shall not be more than Rs. 1 lac per annum.
B.    Submission of applications for scholarship
    A candidate has to apply for the Scholarship along with the following:
a.    Proof of registration/up gradation.
b.    Proof of passing the examination of relevant level.
c.    Proof of pursuing O/A level as full time course.
d.    Proof of income.
C.     Amount of Scholarship
The amount of scholarship shall be four times the examination fee paid per module i.e. Rs. 500/- as at present or in other words Rs. 2,000/- per module. Course-wise amount of scholarship and the number of installments is as under:-
| | | | |
| --- | --- | --- | --- |
| Sl. No. | Level | Duration | Total amount of |
|   |   |   | Scholarship (Rs) |
| 1 | 'O' | 1 year |  8,000/- |
| 2 | 'A' | 1 year | 20,000/- |
LIBRARY RULES
    i.    Students are allowed to borrow books as per availability and regulation.
    ii.    Students can avail Library facility during the working hours only.
    iii.    Reference books are assessable but only inside the Library and cannot be borrowed.
    iv.    Delay on returning/renewing of books will be fined per day as per standing rules of Library.
    v.    Students shall be responsible for the loss of books, in kind or in cash. In case of book injured or defaced, the borrower may make good the damage or loss as applicable.
    vi.    Any misbehaviors/ immoral conduct like tearing of pages of books, magazines and newspapers marking or writing inside the book will be dealt with strict disciplinary action.
    vii.    Silence should be maintained inside the Library.
    viii.    Handbag, rucksack, backpack, knapsack, etc., are restricted inside the Library.
    ix.    Mobile Phones, Pagers, MP3 Players, iPods, etc. should be switched off inside the Library.
    x.    Students have to pay library security deposit (refundable)

LABORATORY RULES
    i.    No students are allowed inside the laboratory except during practical period. For extra practice, students may take permission of their concerned faculty and Lab In-charge should be informed.
    ii.    Smoking, eating, drinking and playing Games are NOT allowed in the labs.
    iii.    No external storage devices are allowed inside the laboratory and in case the requirement arises, the permission should be obtained from Lab in-Charge or Concerned Faculty.
    v.    For any offence committed by the students in the lab, proper disciplinary action will be taken by the institution.
    vi.    User is strictly advised to take care of their personal belonging all the time. The Institution is not responsible and liable to any lost of personal belonging in the computer labs.
English