About Tezpur Extension Centre
"NIELIT Tezpur extension centre of Guwahati" is in operation w.e.f. 5th August'1998, in the name & style of "CEDTI Tezpur" after signing of an MOU between Tezpur University & erstwhile Dept. of Electronics, Govt. of India. The centre started its operations from the Tezpur University campus at Na Paam near Tezpur. The location was later shifted to Law College Campus, Tezpur.  
Subsequently as per decision of the Executive Committee meeting held on 18-7-2002, the CEDTI, Tezpur has been re-named as "CEDTI, North East (Upper)" with area of operation extending to the states of Assam, Arunachal Pradesh, Meghalaya and Sikkim and to initially function from Guwahati and Tezpur with administrative set up at Guwahati.
After the merger of CEDTI's with DOEACC Society (except CEDTI, Mohali) in December'2002, the centre was renamed as DOEACC Centre Guwahati/ Tezpur and later on as the "DOEACC Society Guwahati/ Tezpur Centre". In October'2011, DOEACC Society was renamed as "National Institute of Electronics & Information Technology" in sort "NIELIT" and the centre is thus renamed as "NIELIT Guwahati/Tezpur".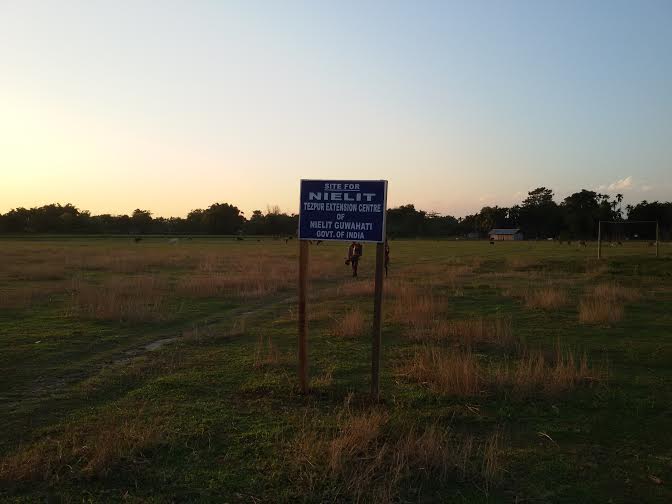 In April'2012, the union cabinet has approved a project of the Dept. of Electronics & Information Technology (DeitY), Govt. of India, "Development of the North Eastern Region by enhancing Training/ Education capacity in the IECT Area".Accordingly, Tezpur centreis now renamed as"NIELIT Extension Centre –Tezpur of NIELIT Guwahati".
Since its inception, NIELIT Tezpur Extension Centre is involved in providing up-to-date industry relevant training programs (both long term and short term courses) in the areas of Information, Electronics and Communication Technology (IECT) in the non-formal sector. Thus NIELIT Tezpur extension centre has created a niche in itself in imparting quality IT education in and around Tezpur. 
Courses Offered at NIELIT Guwahati Tezpur EC
(A) Long Term Courses Minimum 1 year duration
| Sl No | Name of the Course |
| --- | --- |
| 01 | Software IT 'O' Level |
| 02 | Software IT 'A' Level |
| 03 | CHM 'O' level (Hardware) |
| 04 | CHM 'A' level (Hardware) |
(B) Short Term Courses 2-3 months duration
| Sl No | Name of the Course |
| --- | --- |
| 01 | BCC (Basic Computer Course) |
| 02 | CCC (Course on Computer Concepts) |
| 03 | Certificate Course in PC Hardware & Networking |
| 04 | Certificate Course in Office Automation |
| 05 | Certificate Course in Desktop Publishing |
| 06 | Certificate Course in Web Designing |
English