About Kokrajhar Extension Centre
NIELIT Kokrajhar is the 4th Extension centre of Guwahati. The centre has started its activity from June 2014 having space of approximately 4000 square feet in the heart of Kokrajhar town. It is located in rented premises above SBI North Kokrajhar Branch, J.D Road, Tengapara. NIELIT Kokrajhar Extension Centre whose mandate is to provide up to date industry relevant training programs in the areas of Information, Electronics & Communication Technology(IECT) in the non-formal sector, will start operating from its own permanent campus in the land provided by the B.T.C (Bodoland Teritorial Council) administration in Titaguri, Kokrajhar near future.
Kokrajhar is one of the twenty-seven districts of Assam and can be described as the gateway to the northeastern region of India. Both road and rail touches this district at Srirampur before they go on to other districts in Assam and the other northeast states. The district can be easily reached as both the mainline road and rail passes through this district. Kokrajhar is also the headquarter of the Bodoland Teritorial Council. The colourful Bodo community comprises the majority in Kokrajhar district. It also has a sizeable Rajbongshi and Santhal population.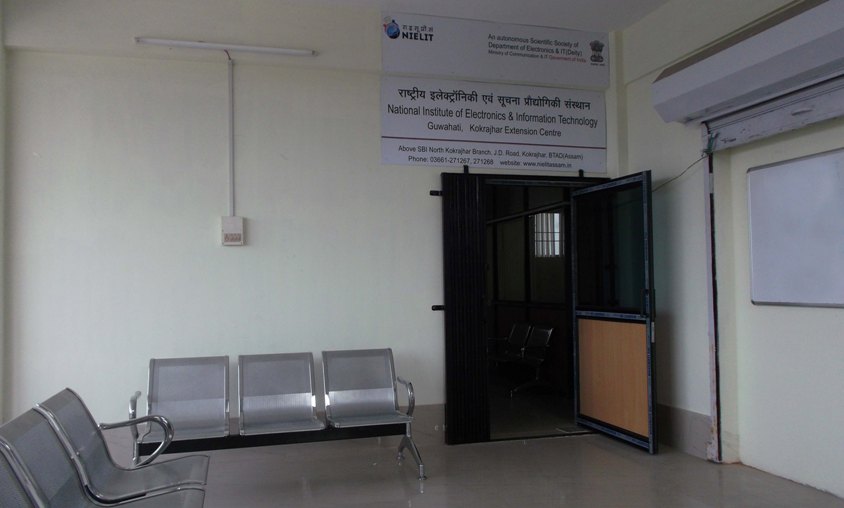 Courses Offered at NIELIT Guwahati Kokrajhar EC
(A) Long Term Courses (Minimum 1 year duration
| Sl No | Name of the Course |
| --- | --- |
| 01 | Software IT 'O' Level |
| 02 | Software IT 'A' Level |
| 03 | CHM 'O' level (Hardware) |
| 04 | CHM 'A' level (Hardware) |
(B) Short Term Courses 2-3 months duration
| Sl No | Name of the Course |
| --- | --- |
| 01 | BCC (Basic Computer Course) |
| 02 | CCC (Course on Computer Concepts) |
| 03 | Certificate Course in PC Hardware & Networking |
| 04 | Certificate Course in Network Administration |
| 05 | Certificate Course in Office Automation |
English