Pilot Plant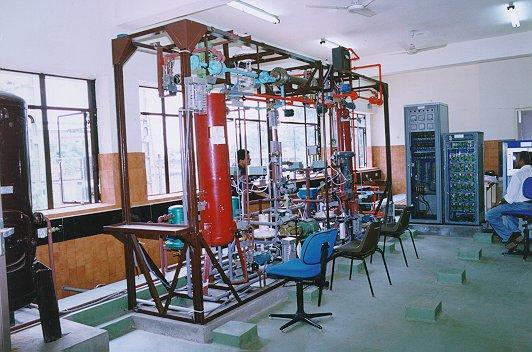 At NIELIT Calicut we have designed and being developed the Process Automation Training Plant with following objectives
Develop a platform for conducting practical oriented M. Tech course in Process Control and Industrial Automation
Develop a platform for Application Research &Development of new process control and instrumentation strategies
Develop a platform for studying advanced control strategies required for automation of process industries before applying on the real process
Develop a state of the art training setup that can be eventually supplied to educational institutions ( through various funding agencies)
To expose fresh engineers to real process and industrial automation
Training of in house manpower in project engineering for plant automation
To impart training in:
 engineering standards and methods
hardware and software features for industrial automation to engineers, plant supervisors & plant operators
In recent years the performance requirement of process plants has become increasingly difficult to satisfy. Stronger competition, tougher environmental and safety regulations, and globalization of economy have been key factors for tightening product quality specifications. This has lead to, not only improvement of process but also the development of new methods for measurement, instrumentation and implementation of advanced control for process automation. Elementary teaching equipment for demonstrating the principles of process control are widely available from a number of sources.
Process control simulators in which the plant is represented by a computer are also widely available. However, these equipment will not provide the trainees, hands on experience with required complexities as demanded by a real process plant. Also it is not economical to study and analyse the advance process control techniques on the actual plant, which may lead to unexpected hazards and production loss. Hence for studying, analysing, troubleshooting and experimenting with various process control instruments and advanced control system needed for process automation, the development of a plant using real sized instruments is essential. The effectiveness of modern process control algorithms, like adaptive control and predictive control aspects can be better studied in a training plant that uses real sized instruments rather than laboratory sized equipment. This has led to the design and development of a process automation training plant.
This plant is an ideal set up to train engineers, in real life problems of industrial process automation. The plant has fundamental control loops such as level, pressure, temperature, flow, and interactive control loops of temperature & level, pressure & level. It has real sized equipment like that of a process plant such as open tank, pressure tank, heat exchanger, various types of level transmitters, control valves, orifice plates, centrifugal pumps, solenoid valves and an oil free compressor.
The monitoring and control of the plant is selectable either through an industrial PC with associated hardware and software or through a PLC. Hence it can be easily tailored for teaching PC /PLC based process automation & control and experimenting the various advanced control strategies required for process automation
 Specification
1) FEEDBACK CONTROL
i) TEMPERATURE
a) WITH DISTANCE VELOCITY LAG
b) WITH CAPACITY LAG
ii) FLOW
iii) LEVEL
iv) PRESSURE
2) CASCADE CONTROL
i) LEVEL AND FLOW
3) THREE ELEMENT CONTROL
i) TEMPERATURE
ii) FLOW
iii) LEVEL
iv) PRESSURE
4) FEED FORWARD CONTROL
i) TEMPERATURE
5) HEAT EXCHANGER CONTROL
i) CONVENTIONAL AND FEED FORWARD
6) RATIO CONTROL
i)FLOW
7) INTERACTIVE CONTROL
i) LEVEL AND TEMPERATURE
ii) PRESSURE AND LEVEL
8) BATCH CONTROL SIMULATION, MODELING AND MANY MORE !!!
POWER CONSUMPTION
INSTRUMENTATION 2.7 KW HEATER 12 KW
WATER SUPPLY    HOT 5 lit/min AT 1 BAR COLD 8.3 lit./min AT 1BAR
AIR SUPPLY 8.19 M3/hr AT 10 BAR
DIMENSION 5.0 X 3.4 X 0.88 M
English