Research Leading to PhD
University of Calicut and National Institute of Electronics and Information Technology (NIELIT-), Calicut has signed an agreement for mutual cooperation in the field of Electronics Education and Research. As per the agreement Scientist, Engineers and Teachers can   become research guides of the University and guide aspiring candidates for Doctorate Programs in Electronics. The research students of  NIELIT-C shall register with Calicut university to pursue PhD in the areas of Electronics.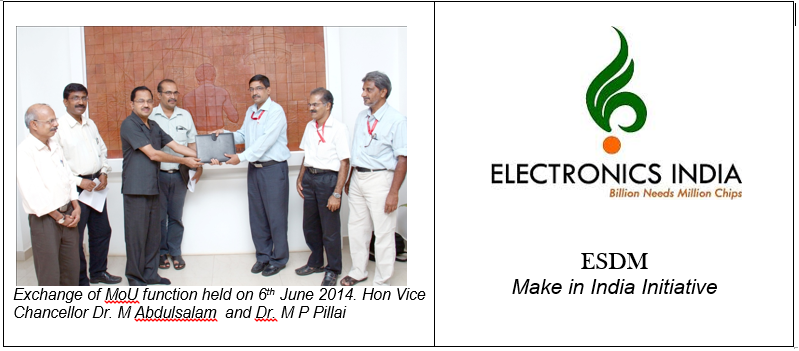 This agreement is an initiative to enhance the availability of highly skilled manpower in ESDM Sector through PG education and produce about 2500 PhD's annually by 2220 in the country as envisaged by Government of India through National Policy on Electronics.
The centre is the first research centre in Electronics Engineering of the University of Calicut. The centre aims to produce quality research in the field of Electronics / Electronics and Communication Engineering by providing state-of-the-art facilities in these domains. Active research is planned in the field of Embedded Systems, VLSI, Internet of Things (IoT) etc. Provisions for full time and part-time research are arranged. Scholarship to regular students is also planned.
Research Guidance and Facilities:
Guidance to research is provided through Research Guides duly recognised by the University of Calicut. For details of available guides & their specialisation, please check our website / contact the research co-ordinator.
How To Apply/ More Details:
Pl contact: The Research Coordinator, NIELIT Calicut, NIT Campus Post, Calicut- 673601-  Ph-0495 -2287266  Extn: 212.   
Research areas follows–
Indicative   Research areas related to Electronic Systems Design & Manufacturing:
Theme 1:  Advanced System on Chip Design
Reconfigurable computing
Reconfigurable Systems-on-Chip
Nano Electro Mechanical Systems (NEMS) for electronic product design
Theme 2:  Energy Harvesting
Vibration Energy Harvesting
Thermo electric Energy Harvesting
Design measures to avoid failure of Electronic devices
Self-Powered/Self-Sustaining Chip design
Theme 3:  Security in Systems design
Network enabled electronic system design
Hardware-Software Co-design for Wireless Communications
Theme 4:  Modeling and Simulation
Behavioural models of Wireless Sensor networks
Design tools for of Wireless Sensor networks
Simulation of Mixed-Signal and analogue systems using VHDL-AMS, System Verilog, System C
Design for Testability & Eco friendly Design
Other Areas:
Electronic Waste Processing & Management
Eco Friendly Electronic Design
English